19 Oct

Driving my community with social media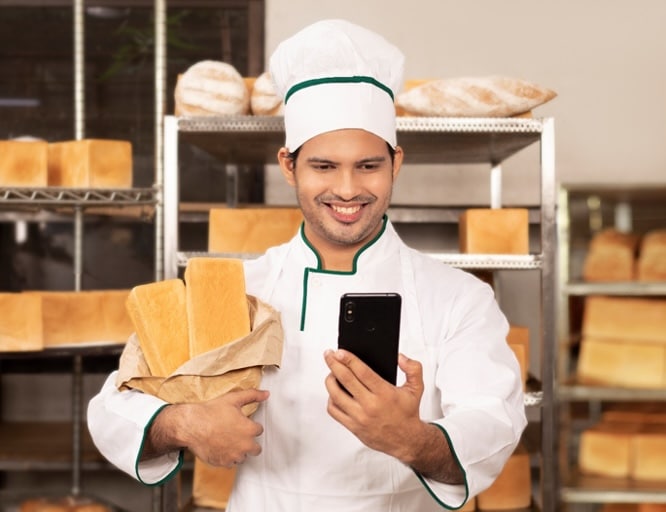 Have you recently created a Facebook page or an Instagram account for your bakery? This is a very good idea! These two social networks will allow you to create a close relationship with your customers at a low cost or to inform Internet users that you don't already know about your shop, in the hope that they become regular customers.
Check out our advice to update your new page and share content with your new community of fans!
I take good care of my Facebook page
Stand out and make a difference, starting with your profile picture.. You can choose your logo or even an attractive corner in your window. For your cover photo, choose a nice photo of the inside of your shop or of your leading products. The visual quality of your photos will attract your customers from behind a screen and make them want to come and pay your shop a visit!
I regularly post inspiring messages
To be effective, your page must become alive. You must post regularly but within reason. A good amount is two times a week. Adding an attractive photo to your posts is a good idea. Encourage your followers to react : Likes, comments, shares.
Post photos from 'behind the scenes' (preparing bread and pastry recipes), and post them at key points of the day (breakfast, snack time, etc.). Encourage people to place orders during special periods (national holidays, celebrations etc.).
I'm starting an Instagram account too
Instagram is gaining more and more followers, among which, are your customers. It is a photo-based social network: a place where you can showcase your products or the atmosphere of your shop!
Here is some advice on posting photos on Instagram:
Showcase your products: arranged on a clean worktop, close-up shots of your breads to appreciate the details and make your followers' mouths water!
Use # in your captions: #seedybread #sandwich or #pizzahouse… to gain more food loving followers
Meet expectations by posting at key times: Photos of pastries in the morning, savoury sandwiches just before noon, delicious cake around 4 o'clock… Instagram is your sweet tooth trigger!
Don't hesitate to post videos: You don't need professional equipment! Here are some content ideas for you to use and then post, either by going live or by adding to your Instagram story:
A 'close up' video of your hands while kneading the bread.
Decorating a cake
The step by step process of making a meringue (each step can be a different story for example!)
Whatever the photo or video may be, sharing this type of content with your customers will strengthen your relationship with them and they will be able to see your artisinal skill!